Sammakka Saralamma (Medaram) Jathara



According to a tribal story, about 6-7 centuries ago, that is in the 13th century, some tribal leaders who went for a hunting found a new born girl (Sammakka) emitting enormous light playing amidst tigers. She was taken to their habitation, and the head of the tribe adopted her and brought up as a chief. She later became the saviour of the tribals of the region. She was married to Pagididda Raju, a feudatory tribal chief of Kakatiyas (who ruled between 1000 AD and 1380 AD). She was blessed with two daughters named Sarakka and Nagulamma, and a son, Jampanna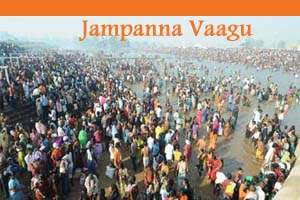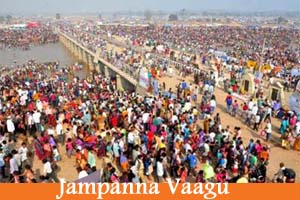 During on year severe drought hit that area. The tribes were dying of starvation, yet the Kakatiya king, Pratapa Rudra, was forcing tribes to pay taxes. But Pagididda Raju refused to pay the king anything as they have little.

When the king's army arrived to punish the tribes in that area, they resisted and fought as long as their strength allowed. Pagididda Raju and his daughters (i.e., Sarakka, Nagulamma) were killed, and Jampanna fought on until he too was killed and his body thrown into the river. Then Samakka entered the battlefield and continued the fight against the Kakatiya king. She cursed the Kakatiya kingdom and promised her tribe that as long as they remembered her, she would continue to protect them – then walked into the forest with her wounds. When the tribals went in search of her, all they found were the pugmarks of a lion, a heap of vermillion powder and a few glass bangles, left at the very spot where Sammakka was found as an abandoned infant.

The spot where Sammakka was found as a baby is now called Chilakala Gutta. The course of the Godavari through this region is called Jampanna Vaagu, in memory of Jampanna's sacrifice for the Koyas. The soil is red underfoot and they say it is the blood of their martyrs that makes it so.

The Sammakka Sarakka Jatara (Festival) is held to offer tribute to the brave mother-daughter warriors. This fair is said to be the largest repeating aggregation of tribal communities in the whole world.

The belief in the power of the legendary Goddesses strengthens the popularity of the Jathara. The Jathara is a colorful experience as people arrive in beautifully decorated bullock carts to participate in the festivities and get blessed by Sammakka and Sarakka. This jathara is also a popular destination for tourists not only from various states of India but also from across the world as this is regarded as the best opportunity for savoring the real taste of tribal art and culture.

Medaram is a small village in the Eturnagaram foest area of Jayashankar Bhupalpally district, Telangana. During Sammakka Saralamma Jathara, more than 1 crore devotees visit this places (in 4 days of Jathara) . This jathara is Asia's biggest religious congregation and also called as Telangana's Kumbh Mela.

People believe that Goddesses Sammakka, Saralamma fulfill their desires with their divine and miraculous powers. Many devotees pay their promises made to goddess during the Jathara, by offering Bellam (Bangaram, Jaggery), coconuts and donations in cash etc. The main offerings during the jatara by devotees include jaggery equal to their weight.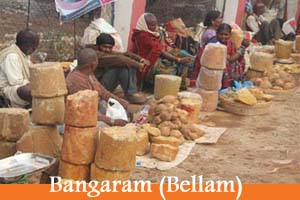 Pilgrim will take bath in the Jampanna Vaagu to get purified and absolve from sins.

Tribal goddesses i.e., Sammakka & Saralamma in Medaram were worshipped during the jatara only after offering prayers to Lord Sri Raja Rajeswara Swamy at Vemulawada is a running tradition.

The 'Sammakka Saralamma' Jatara, the largest tribal fair of the nation, will be held from January 31, 2018, to February 3, 2018.
January 31, 2018 - Goddess Saralamma will arrive to Gadde.
Febraury 1, 2018 - Goddess Sammakka will arrive to Gadde.
Febraury 2, 2018 - Offers 'Bangaram' to Goddess.
Febraury 3, 2018 - Goddess Sammakka & Saralamma vanapravesham.
Accommodation Options
Laknavaram Lake (35 km - Haritha Resort)
Tadvai (14 km )
ITDA Guest House at Medaram
Near by attractions
Laknavaram lake - Hanging bridge
Ramappa temple - kakatiyas temple carvings on stones.
Warangal city - Thousand pillar temple(veyi stambala gudi), bhadrakali temple and Kakatiya fort
How to Reach/Distance/Sammakka Sarakka Medaram Jatara:
From Vemulawada distance to Medaram is 201 Kms
From Hyderabad distance to Medaram is 238 Kms
From Karimnagar distance to Medaram is 167 Kms
From Warangal distance to Medaram is 99 Kms
From Huzurabad distance to Medaram is 125 Kms
From Parkal distance to Medaram is 80 Kms
Some routes options:
waranagal/ Hanumakonda / Kazipet -Warangal fort-Mulugu-Jangalapalli-pasra-Tadvayi-Eturu nagaram-Medaram.
waranagal/ Hanumakonda / Kazipet -Mulugu-Jangalapalli-pasra-Tadvai-Eturunagaram-Medaram.
Huzurabad -Parkal-Machapur- Ghanpur-pasra-Narlapur-Medaram.
Kaleswaram -Mahadevpur-Garepalli- Narlapur-Medaram.
Kothagudem -Yellandu-Marrigudem- pasra-Narlapur-Medaram.
Reach By Bus:
There are so many special bus services from major cities like Vemulawada,Hyderabad, Warangal, karimnagar, Huzurabad, Parkal etc .
Reach By Train:
At present No Direct train for Medaram. The nearest railway station is Kazipet Juction /Warangal Rail Way Station is 99 km away from Medaram is easily reachable from near by towns.

Videos about Medaram Fair.....
Bharath Darshan....