Fairs near Vemulawada
Inavolu Jathara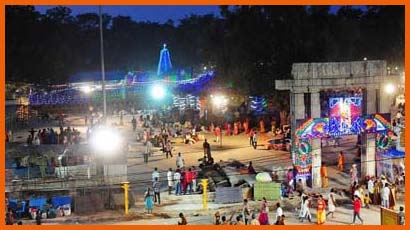 One of the biggest religious fairs in Telangana, the 'Inavolu Mallikarjuna Swamy Jatara' begun on Thursday at Inavolu village in Wardhannapet mandal will continue upto Ugadi i.e., April 8th 2017. Special events would take place from January 13 to 15 marking Sankranthi celebration. The celestial marriage of presiding deities Mallikarjuna Swamy, incarnation of Lord Shiv and his consorts Golla Kethamma and Balija Medalamma, which takes places on March 7 marking Mahasivatri, would be highlight of the jatara
Komuravelli Mallanna Jathara



Mallikarjuna Swamy temple jathara at Komuravelli village in Cheriyal mandal scheduled to begin on January 4 and continue till April 4
Nagoba Jathara

Nagoba Jatara is a tribal festival held in Keslapur village, Inderavelly Mandal Adilabad district, Telangana, India. It is the second biggest tribal carnival and celebrated by Mesaram clan of Gond tribes for 10 days. The Nagoba Jatara starts in pushya masam in every year .

The Mesram community persons of Keslapur village in Indervelli mandal will collect the holy Godavari water 10 days before to reache the Indradevi temple in the mandal an they will performe special puja as per their traditions.

Then after walked to Keslapur, where the Nagoba temple is located, holding the water form River Godavari. They will stay under a Banyan tree and also performs special puja at the spot. These devotees stays under the tree for two days. The Nagoba Jatara begins with a maha puja to Nagoba who is treated as god by the tribals belonging to the Mesram community.

The darbar will be held during the jathara, which will be attended by the officials of the district administration. Tribal grievances will be given a hearing and solutions will be provided wherever feasible.

Thousands of Tribal people from Maharashtra, Chhattisgarh, Orissa, Karnataka, jharkhand and Madhya Pradesh belonging to the Mesaram clan offer prayers at the festival Nagoba.

The Gusadi Dance performance by dancers from the Gond tribe is a major special attraction of the event.

How to Reach/Distance/Travel Nagoba Jatara:
To reach Nagoba Jatara from Adilabad district center distance is of 32 km.
From Vemulawada distance to travel 149 Kms
From Hyderabad distance to travel 310 kms
From Karimnagar district distance to travel 183 Kms
From Warangal district distance to travel 235 Kms
Reach By Bus: To reach by buses from major cities like Vemulawada,Hyderabad, Warangal, karimnagar up to Utnoor Taluk (Mandal) in adilabad district. From there No of Local Cars Auto share services privately. Reach By Train: At present No Direct train for nagoba. The nearest railway station is Sirpur Kagaznagar Rail Way Station is 23 km away from Keshlapur is easily reachable from near by towns. However, the Kazipet Railway Junction located at a distance of 174 KM from Keshlapur is a major railway junction. Videos about Nagoba.....

Saleswaram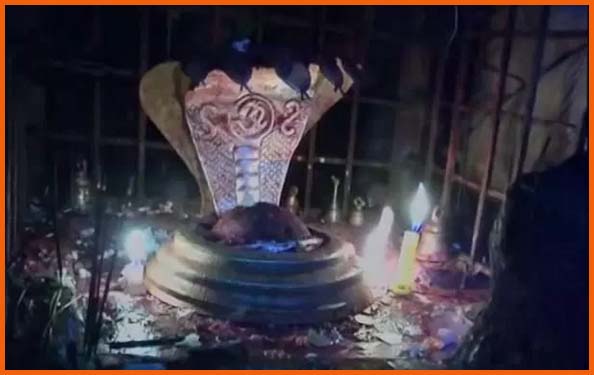 This is located in Nallamalla forest, Mahabubnagar District, near to Srisalam.
The best time to visit this temple is on the chaitra purnima, which is the full moon day during the Chaitra (March- April) month. In fact, this temple is opened for devotees only for 3 to 5 days in a year. This is during the Chaitra poornima. Many devotees visit this temple on this auspicious day.

Salswaram temple will be open from 8th April 2017 to 12th April 2017. Chaitra Pournami day is the auspicious ay for saleswaram darshanam

How to Reach/Distance/Travel:
To reach Saleshwaram Temple tourists are required to cover a small distance of around 1km to 2 km on foot as well. One can travel by road from Srisailam for around 48 km, after which a left turn into the forest is to be taken. After 10 km of drive into the forests, tourists have to get down and walk to reach the temple.

Videos about Saleswaram.....

Paper cuttings.....
Thyagaraja Utsavalu....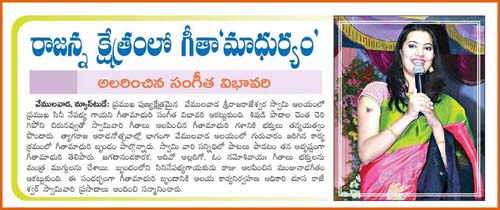 Our Services
Hiring of Vehicle (Car, Auto-rickshaw, jeep etc) for pick up /Drop
Accomodation
Darshan / Arjitha Seva ticket booking Assistance
Arrangement of Purohitudu (Ayyagaru)or Nayi Brahmana (Barber) or Gold smith for various programes like Kesha kandanam (Mundan), Aksharabyasam etc
Prasadam Parcel
R.M.P Doctor On Call
Bike or 4 wheeler mechanic On Call
Tasty food - Free room delivery
Vehicles (Indica, Tavera, Auto, Innova etc) booking for local sight seeing
Local Sightseing
Outstation Tours packages(Kondagattu, Dharmapuri, Gudem, Elgandula Khila etc)
Bharath Darshan....